The Missing NDA and the Facebook Story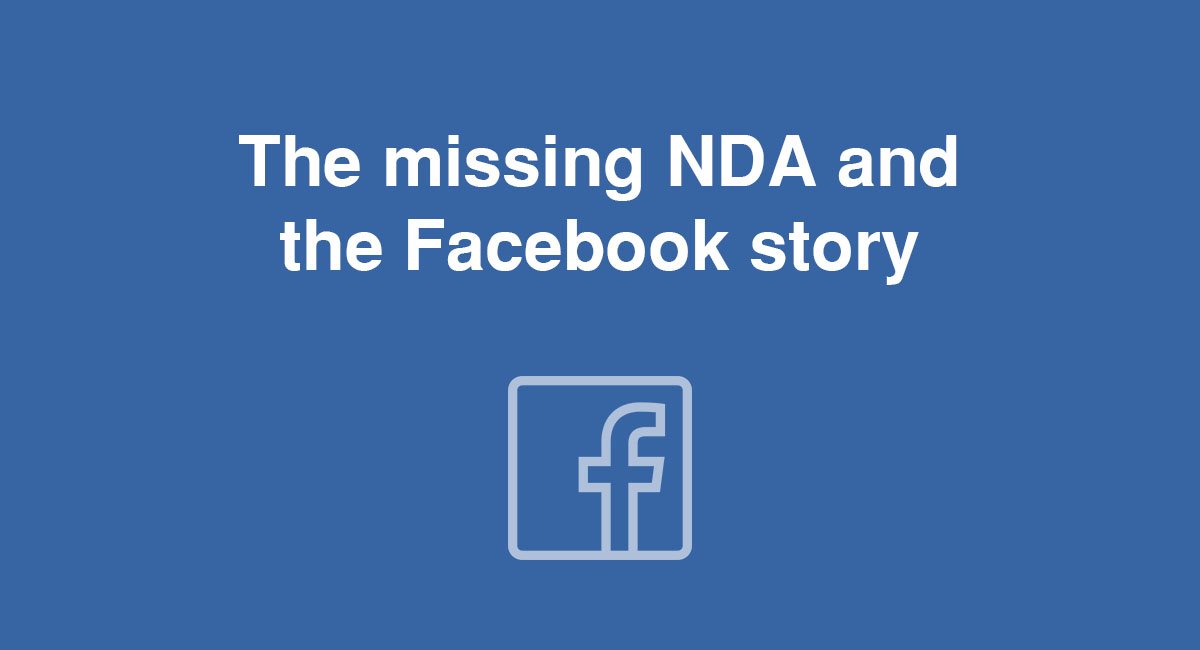 Almost everyone in the developed world now has a Facebook account.
You have probably heard that if Facebook was a country, it would be the most populous nation on earth, with more residents than the most populous country on earth currently, China. According to some statistics, as of 2016, there are more than 1.65 billion monthly active Facebook users and 1.09 billion people log into their Facebook account everyday.
The founder of Facebook, Mark Zuckerberg is the youngest billionaire in the Forbes 2016 World's Top 10 Billionaires list.
The Facebook story
Yet, the story of how Facebook got founded has been the subject of much intense media scrutiny, several lawsuits, a book The Accidental Billionaires and even a Hollywood movie The Social Network.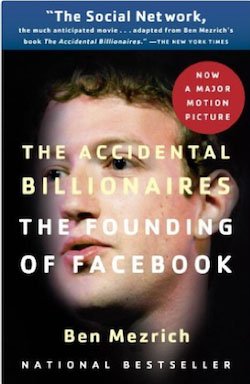 The Social Network movie and the book it was based on, Accidental Billionaires, does not paint Mark in a particularly good light but Mark has continually stated that he was not consulted before the writing of the book or the movie and that there are a lot of inaccuracies in them.
Nevertheless, the book and the movie make for a fascinating story. According to its authors, Facebook was not entirely Mark's original idea and the idea of Facebook was allegedly stolen from some other college mates of Mark's at Harvard.
Back in 2003, Mark was well-known as a software developer while enrolled as a student at Harvard. He had built programs including CourseMatch (helping students to choose their classes based on the course selection of other users) and Facemash (which allowed students to rate other students attractiveness based on their pictures).

It was while he was in his sophomore year in the fall of 2003 that three other fellow Harvard students, twins Cameron and Tyler Winklevoss and Divya Narendra ("trio") approached him about helping them to build a social networking site that would be called the HarvardConnection.
The site was meant to pull information from Harvard's student networks to create a dating site. According to the story, Divya first had the idea for a social network site for Harvard students and alumni in 2002.
The trio contacted Mark and they arranged their first meeting in November 2003 where the trio outlined their idea about building a social network site for Harvard students that would eventually expand to other schools around the country.
According to the trio, Mark allegedly showed enthusiasm for the work and later that night and the next day, Mark sent the trio two emails to say that he was going to work on basic functionality, had created one of two registration pages and would keep them posted. The trio thought that the emails indicated that Mark was onboard their project and had started work on it too. During this time, they sent over information to Mark about the project.
However, a few days later, Mark started to send the trio emails that seemed to sound like he was swamped and was too busy to do any further work and had to postpone their meeting. This went on for a few months till January 2004.
On January 14 2004, Mark met with the trio for the last time and at this meeting, he expressed doubts about the HarvardConnection and said that he was too busy and had to delay work on the HarvardConnection. He did not indicate that he was working on his own project, Facebook, nor that he had no real intention of finishing HarvardConnection and was intending to quit.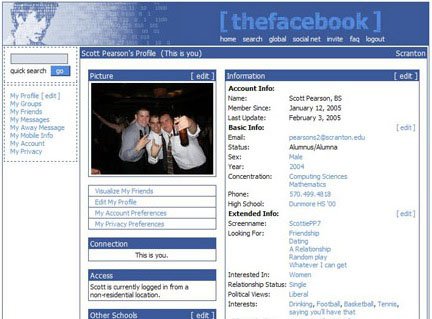 On February 4 2004, Mark launched Facebook to Harvard students. On February 10 2004, one of the twins Cameron Winklevoss wrote to Mark and accused him of breaching their agreement and stealing their idea.
In May 2004, the trio were finally able to complete HarvardConnection which became ConnectU using another developer.
ConnectU officially sued Mark in September 2004 for breaching their agreement and stealing their idea. The parties reached an initial settlement in February 2008 when Mark's IM messaging history was obtained as evidence. This wasn't the end of the lawsuits though as the twins later alleged that Facebook had hid material information from them but finally everything got settled in 2011.
Although parts of the story above may not be entirely accurate nor been proven, a few points are pertinent:
It was clear that there was no written agreement between the trio and Mark with regards to the work
And there was no official agreement between them that required Mark to keep confidentiality
Would things be different if there had been? Probably.
The NDA
A non-disclosure agreement (NDA) is a legally binding contract between parties that is useful for early-stage negotiations.
It's main purpose is to prevent the unauthorized exposure and misuse of confidential information by a party that is receiving confidential information.
It can also be used to prevent the theft of ideas.
If the trio had made Mark sign an NDA before they shared their ideas with him, Mark may never have been able to create Facebook, or at least not use their information to create it.
If Mark wanted to continue with his Facebook idea, he would have had to persuade the trio to amend the NDA to allow him to build Facebook solely with his own ideas and information or only using specific information that was authorized by the twins.
Either way, the trio would not have been blindsided by Facebook and the NDA would have probably forced Mark to reveal his own intention and side project to them right from the start.
If Mark hadn't, the trio probably would have been to use the remedies normally included in an NDA including injunctive remedies and damages.
There's of course the possibility that Mark could have refused to sign the NDA but if this had happened and the trio refused to work with him because of his refusal, Mark would never have been able to stall the creation of HarvardConnection the way he did.
Either way, the trio would have been much better off with an NDA.
Useful clauses for NDA in early-stage startups
There are a few NDA clauses that would have been particularly useful for the trio in the story above.
Clause 1: Definition of Confidential Information
One of the most powerful clauses that an NDA can provide for is the scope of confidentiality that's required of the party that is receiving confidential information.
You can define what information you share will be confidential and also, how wide the scope of confidentiality is meant to extend to.
Confidentiality can include business plans, sketches, marketing plans, designs and source codes that the trio would share with Mark upfront but could also extend to other confidential information that the trio intend to share later in the future such as financial information, student user personal information and venture capital investors.
Here's an example of a definition of "Confidential Information":

Clause 2: Non-Use, Non-Compete
On top of this, the trio can also specify whether Mark is allowed to use the information that he has gained from their confidential information, if at all.
In other words, the trio could have prohibited Mark from using the confidential information to build Facebook nor to share the information with anyone else including his Facebook co-founders.
Here's an example: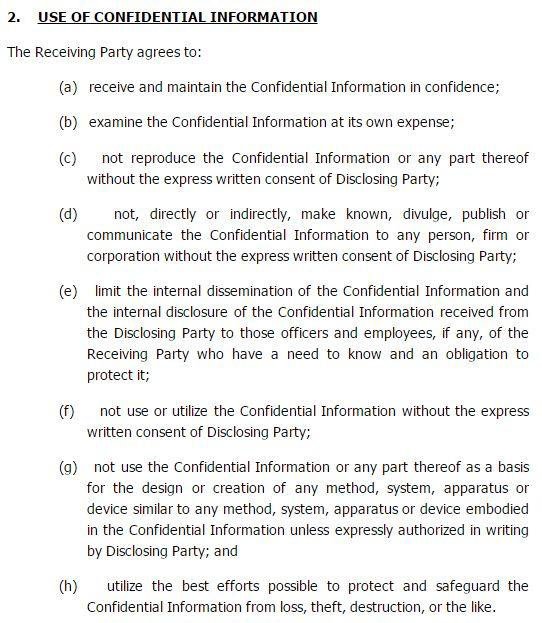 Here is another example from the University of Connecticut from its Non-Disclosure and Non-Use agreement:

If the trio really wanted to be tough on Mark and prevent him from competing with them, they could include a non-competition clause.
The only problem with non-competition clauses is that they could backfire, especially in Silicon Valley and California where any agreement that is deemed anti-competition could be struck down by courts.

Clause 3: Duration
An NDA can specify a duration for which confidentiality and non-use of confidential information is meant to apply for.
For example, the trio could have requested that Mark not use any of the information that he learned from their project to produce Facebook, until after HarvardConnection had been officially launched.
Here's an example of a clause from the Confidentiality Agreement by Genie App Studio with a stated duration for which the agreement is to apply:

Clause 4: The Residuals Clauses
As mentioned before, there's the possibility that Mark would have refused to sign the NDA if it prevented him from building Facebook.
A residuals clause can be included in an NDA for the benefit of a party receiving confidential information to encourage them to sign the NDA.
Instead of completely prohibiting Mark from competing with them, the trio could compromise with a residuals clause that allows Mark to retain certain types of general information while working for them that he could use for his Facebook idea.
There's great risk with such a clause but if the trio really wanted Mark to work for them because of his exceptional skills, this could be an acceptable compromise.
Here's an example of a clause from Microsoft's Confidentiality Agreement for Licensing Discussions where the other party is allowed to independently develop their own products but no rights are granted under the NDA:

This is another example from the European IPR Helpdesk's Mutual NDA:

Although it's undeniable that Mark is a brilliant man and the HarvardConnection may never have rivalled the Facebook that he created, an NDA would have at the very least given the trio some legal remedies and options.
If you ever find yourself in the same situation as the trio and you wish to check out the possibility of hiring an independent contractor to help you with your project, don't reveal too much confidential information until you get the contractor to sign your NDA.
If they're not willing to do so, find out why and question whether you think that you can trust them enough with your idea.
You never know, you may have an idea worth a billion dollars.
Credits: Icon Facebook by Niels Gesquiere from the Noun Project.