Share business plan by using NDA agreement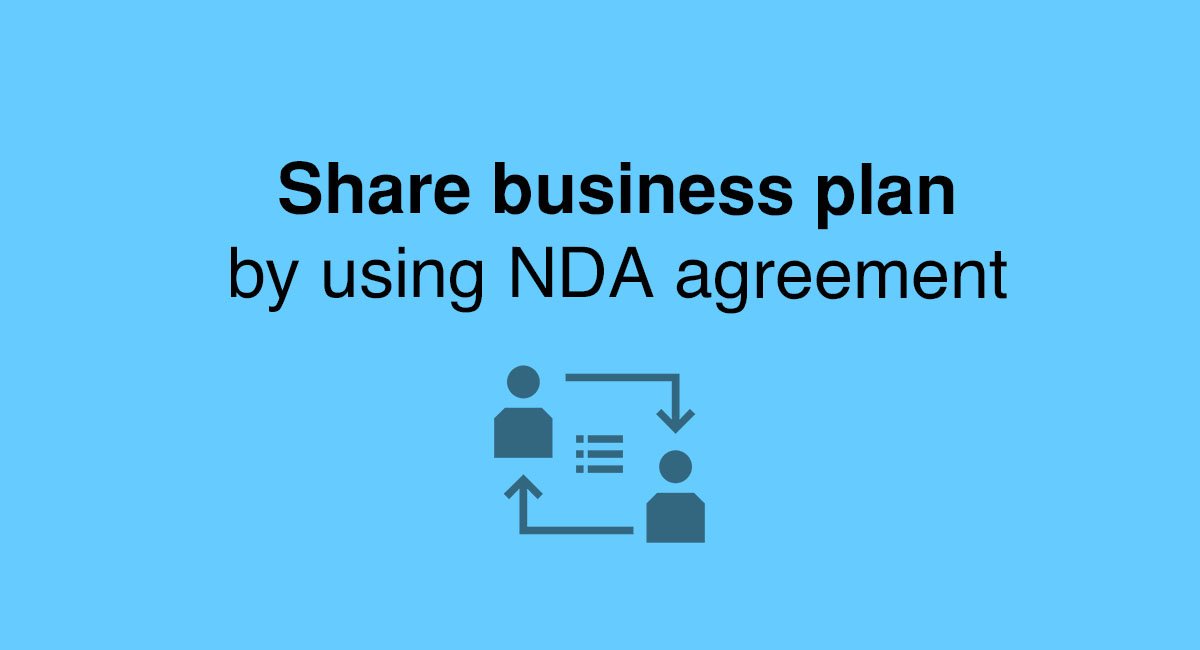 If you have an idea running around in your head that refuses to go away and you want to create a startup, small business, a nonprofit or some other type of commercial enterprise, you'll likely have heard someone tell you that you should create a business plan.
A business plan is a high-level roadmap for your business that covers many different aspects of a business such as market research, sales, target market, competitor SWOT analysis (strengths, weaknesses, opportunities, threats), human resources, financial plans and a management team.
Creating a business plan is a very useful exercise in itself because it helps you to think ahead and consider where you would like be, the potential possibilities as well as the gaps in your business. Besides internal planning purposes, some business plans are created for the purpose of seeking funding from banks, investors and other financial institutions.
On top of this, business plans can also be created for the purpose of sharing your vision and plans with potential customers, joint partners and potential buyers of the business.
For example, you may be looking at creating a joint partnership with another person or inviting another entrepreneur to join you in a key position within your startup.
Business plans often include a few key elements that are highly confidential.
Information in the business plan
Market strategies and analysis
A business's marketing strategies and market research is normally detailed in a business plan. Information can range from market segmentation and types of ideal customers, market trends to analyses of how marketing strategies can be used to reach these groups more effectively.
Here's an example of a market analysis chart for a technology business plan: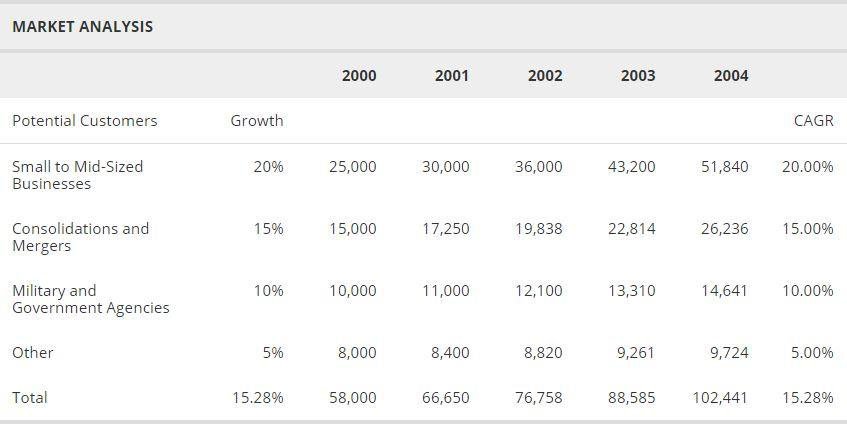 Main competitors
Business plans can also contain valuable information on competitors within the market, niche or industry.
Here's an example taken from a template business plan: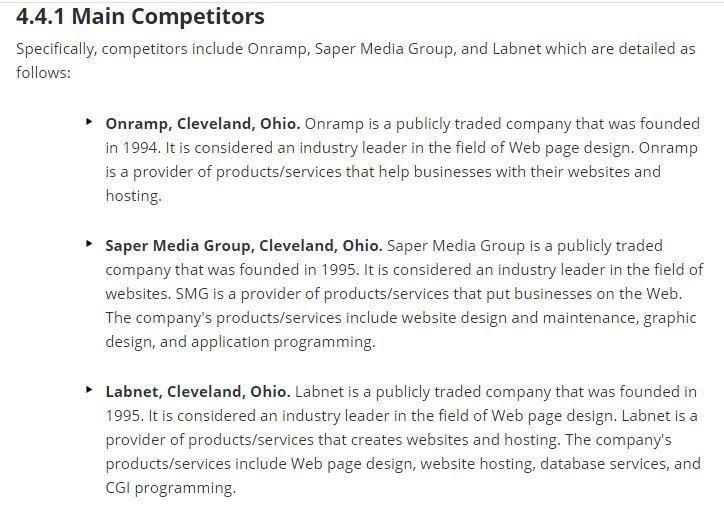 HR/Personnel Information
Human resource planning and high-level personnel information may also be listed in the business plan as illustrated from this example: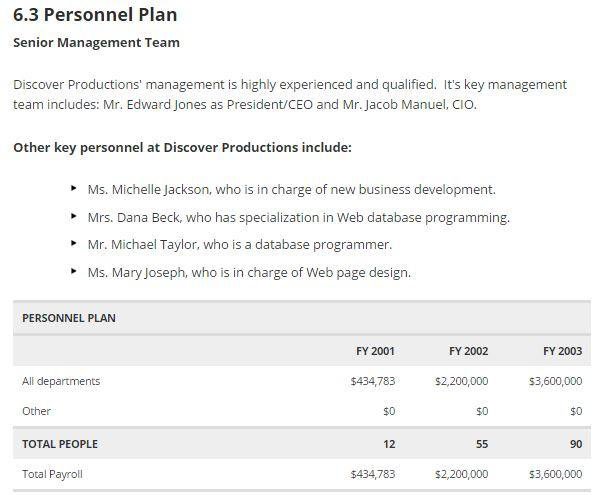 Financial information
Business plans also provide sensitive financial data such as balance sheets, projected cash flow forecasts and projected profit and loss statements.
Here's an example of a projected cash flow graph: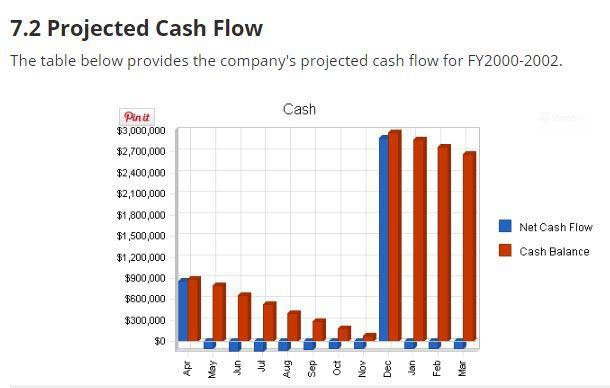 Here's another example of extremely confidential information that is normally included in a business plan. In this example, sales forecasts, current liabilities, capital and cash flow data are listed in the appendix of this example of a plan for software publishers. The full appendix is on Bplans website: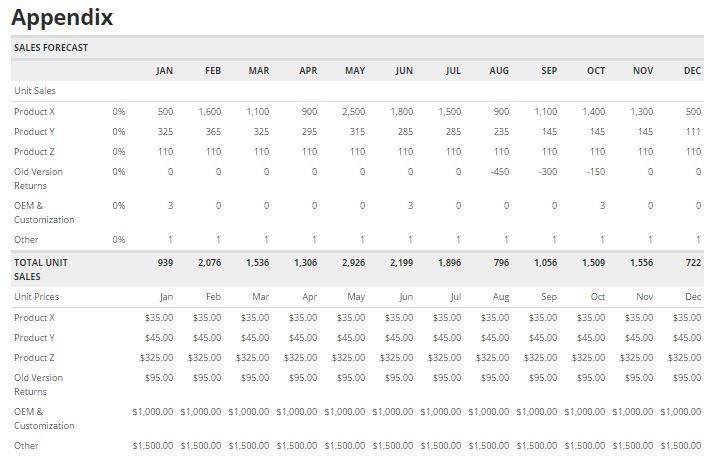 Enter the Non-disclosure agreement (NDA)
Since business plans often reveal the heart, soul and secrets of a business, you probably want to make sure that anyone that you share your business plans with will keep your information confidential.
One of the legal tools that you may find useful to help you achieve protection for your sharing of confidential information is a non-disclosure statement (NDA).
A NDA is a contract between parties wherein the party receiving confidential information ("Receiving Party") promises the party that is divulging information ("Disclosing Party"), to keep the information secret.
In the case of a breach, the NDA can be drafted to allow you to seek monetary remedies but more importantly, you have the opportunity to seek equitable and injunctive remedies that force the Receiving Party to stop sharing or disclosing your confidential information without your permission.
Although you may never actually enforce a NDA against another person, requiring another party to sign this kind of agreement can a great way to give advanced notice to another party that the confidentiality of the details in your business plan is vital.
You'll probably only be looking at using a unilateral agreement, also known as a one-way NDA, unless the other party is intending to be sharing confidential information with you as well, in which case, you would use a mutual NDA.
Here are some important points to note and useful clauses that you should have in this legal document.
Definition of Confidential Information
You should include in your NDA agreement a definition of what would be considered confidential information.
You want to make sure that your definition covers all the confidential information that you intend to reveal but is also not too broad and vague as this may come across as unreasonable by certain courts.
You have to be prepared to justify why the information needs to be protected by confidentiality, if ever questioned by the courts.
For example. in Lasership, Inc. v. Watson, the court in Virginia were not happy that the scope of the definition of confidential information in the agreement before them was applied too broadly.
Confidentiality can normally extend to things such as documents, designs, sketches, analyses, source codes, marketing plans, manufacturing processes and technical procedures.
However, in your case, you should probably state that confidential information refers to all information within your business plan as well as any discussions regarding the details of the plan.
Here's an example of a clause defining what would be considered confidential for the parties in Accuride Corp's Confidentiality and Non-Disclosure Agreement.

Duration
Another important clause that impacts the scope and reasonableness of a NDA is the duration for which the requirement of confidentiality is imposed.
A court may consider a NDA unreasonable if the restriction on disclosure of confidential information is too long.
In Augusta Medical Complex, Inc. v. Blue Cross of Kansas, Inc., the Kansas court was against contracts with indefinite time durations.
As most business plans are subject to ongoing change and revision as a business evolves, it's likely that a short time duration for your agreement would be sufficient.
It's also unlikely that you will be revealing any trade secrets when discussing your business plan but if you do intend to share trade secrets, then you can disregard the limited time duration and apply a perpetual duration requirement to protect your trade secrets.
A trade secret is entitled to confidential protection as long as it continues to remain a trade secret and efforts have been suitably made to maintain its confidentiality.
No Grant of Rights
It's also useful to clarify that the sharing of your confidential information through your business plan does not grant any rights to the Receiving Party to the information.
Here's an example of a clause in an agreement:

Authority
If the Receiving Party is an entity, the NDA needs to be signed by a person who is legally authorized to do so on behalf of the entity.
To cover for cases of mistake and fraudulence, you can insert a clause in your agreement that the parties affirm that the individuals signing the agreement have binding authority.
Here's a simple clause from the Canadian Corporate Counsel Association's Mutual Confidentiality and Non Disclosure Agreement template:

Binding on Others
The Receiving Party may wish to consult with their attorney, accountant or other third parties to determine if your business plan makes sense and is viable.
To enable them to carry out their consultation without sacrificing your confidentiality, you can insert a clause that this NDA is to be binding on anyone that the Receiving Party shares your business plan with.
Here's an example of a clause from Accuride's Confidentiality and Non-Disclosure Agreement again:

Jurisdiction
If you ever needed to enforce the terms of your NDA against the Receiving Party in court, the jurisdiction and governing law that would apply to your agreement will be enormously important.
Jurisdiction refers to the court that will have authority to rule over your case. Governing law refers to the laws of a particular state or country that will be apply to the NDA.
The jurisdiction does not have to match the governing law.
For example, you may state that you wish English law to apply and the jurisdiction to be the New York courts. This means that you are granting authority to a New York court to apply English law when assessing the terms of the NDA.
If you omit to include a clause specifying the jurisdiction or governing law, you may be looking at additional costs and time spent in court trying to determine this issue.
Different jurisdictions and governing laws can results in different outcomes.
Most Disclosing Parties choose a jurisdiction or governing law that would be favourable to their cause.
However, there's one thing to note. Article 25 of the Brussels regulation requires that there must be consensus reached between contracting parties when it comes to jurisdiction.
Because your NDA is most likely going to be a unilateral agreement, make effort to point out the jurisdiction and governing law clause to the Receiving Party and make note of their consent in case it is ever needed as evidence.
An example of a clause that provides for jurisdiction can be found in a NDA from Harvard Business School:

Termination of Contractual Relationship
If both of you choose not to work together after the sharing and discussion of your business plan, then you should think about what you want the Receiving Party to do with that plan and all the confidential information you shared.
You could require them to return to you all copies of your business plan or to destroy any copies or records of information that are in their possession.
An example of such a clause can be found in Accuride Corp's Confidentiality and Non-Disclosure Agreement.

If the other party refuses to sign a NDA
Due to the nature of confidential information within a business plan, a NDA can be highly important for confidentiality.
However, in reality, we know that when it comes to investors, venture capitalists and banks (basically anyone you are asking money from), they will generally refuse to sign a NDA just to listen to a pitch.
Most investors may be looking at over 20 pitches in a week and they're aware that there's often a lot of cross-polarization and similar ideas in the industry, but it's the execution of the idea that many people fail on.
Most investors, venture capitalists and larger companies want to uphold their reputation and would not be interested in stealing your idea anyway. If an investor or venture capitalist is involved in a project that's similar to yours, they normally decline to meet with you to avoid any conflicts of interest.
If the investor or venture capitalist refuses to sign your NDA, but you're worried about keeping your information confidential, instead of emailing them the business plan, put it on your laptop and share it with them during your meeting that way.
That way, there are no copies of your confidential information floating around.
Alternatively, grant them access to the document online with a password that you can then revoke once your meeting is completed. However, as much as possible try to limit the amount of confidential information that you share until they have confirmed that they're truly interested in investing in your idea.
As for potential co-founders and partners that you're thinking of partnering with, try to test them out first to see if you think you want to take the relationship deeper.
Keep your chat to a brief and informal one to find out what the other party thinks about the general idea of what you are saying.
You don't need to share too many confidential details, just share the 'what' and not necessarily the 'how'.
Once you're confident that you want to work with them, and them with you, then you can negotiate a NDA agreement.