Use Non-disclosures for Works in Progress (WIP)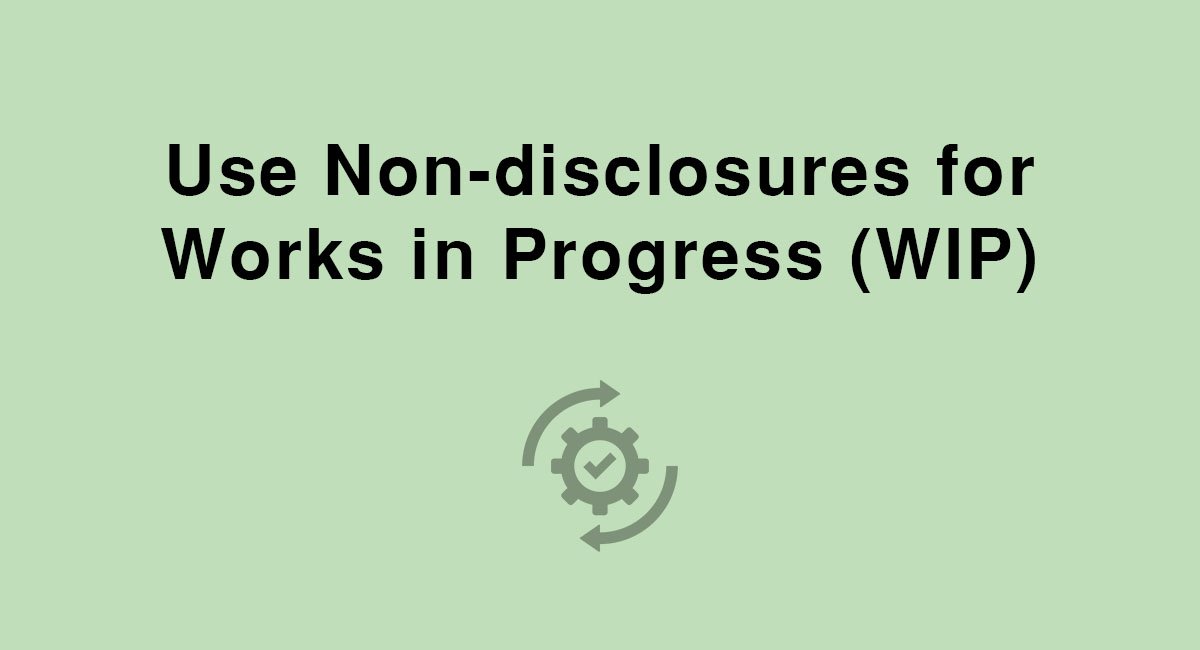 Do you know the alleged story of how Facebook was founded?
If you believe the Facebook movie and news articles, you would know that twins Cameron and Tyler Winklevoss and Divya Narendra accused Mark Zuckerberg of stealing their idea when they first met up in an informal meeting to discuss the idea of a dating site in Harvard.
Whether that story is true or not, how different would it be if the twins and Narendra had insisted that Mark Zuckerberg sign a non-disclosure agreement (which could have included non-use and non-competing clauses) to prevent Zuckerberg from using their idea as his own?
Would Facebook be different today or would it not exist at all?
Non-disclosure agreements (NDAs) are vital if you're thinking of sharing ideas, intellectual property information or confidential information to parties outside of your own business, including potential independent contractors or partners.
You can use this kind of legal agreement to protect any intellectual property rights that your business owns.
The non-disclosure agreement is a contract that requires that confidential information shared by a party ("Disclosing Party") to another ("Receiving Party") is not exposed or used without the permission of the Disclosing Party.
These agreements can be for the benefit of one party alone only, which are also known as one-way or unilateral non-disclosures or it can be for the benefit of both parties where both parties to the agreement require protection for any confidential information that they share, also known as mutual non-disclosures.
Non-disclosure agreements are normally used to explore the possibility of a working relationship with another party such as:
Initial discussions about establishing a business partnership
Licensing relationship or a distributorship
To protect confidential information in an employment relationship including that of an independent contractor
To prevent unauthorized disclosures of intellectual property including trade secrets
To explore the possibility of a sale, merger and acquisition of a business
And so on
For example, if you're a startup founder who's thinking about licensing your technology out to a potential licensee company, but you need to disclose sufficient confidential information so that the potential licensee can decide if you would both be a good fit, you want to make sure that whether the discussions are successful or not:
The potential licensee will still keep any secrets that you reveal confidential
And not share them with your competitors or use the information for their own benefit without your permission
Works in Progress (WIP)
"Works in progress" or "WIP" refer to materials or work that are still in development or production mode and are not yet complete. Works in progress are raw materials with labor and overhead expenses added in.
For example, let's say you hire a manufacturer to help you produce personalized cell phone chargers for sale in your ecommerce store.
At the end of the month, when you do your accounting, you have about 7,000 completed chargers that are ready for sale and another 3,000 that are not fully complete. The 3,000 chargers will be listed as works in progress in your accounting books and are considered as assets.
Because a work in progress (WIP) is in constant change, it's important that you ensure that your expectations of confidentiality of the Receiving Party to take reasonable care with your information is crystal clear and understood by that Receiving Party.
Having a non-disclosure agreement drafted and signed by both parties spells out the Receiving Party's obligations quite clearly for the entire project including when it's the "work in progress" mode or if there's something like a patent application in process.
Without a clear written agreement, there's no evidence as to who said what and who's the true owner of any works in question, if conflict ever arose.
The risk of having the work copied increases without any legal protection.
A pure non-disclosure agreement is especially appropriate when used for early-stage negotiations.
After things start progressing, you can follow-up with an additional agreement suited for your situation, such as a design-commissioning agreement.
Here's an example of a non-disclosure agreement, also known as a Confidentiality Agreement by UpCounsel that lists works in progress as confidential information.

Confidential Information
By clearly defining what information is considered confidential, the Disclosing Party is not only indicating what information is valuable but is also creating guidelines for the scope of confidentiality that's required of the Receiving Party.
As much as possible, you want your definition to cover every document conceivable that you think might contain confidential information but it's also dangerous to go overboard and label all information as confidential, even if they're not.
Not only does this make it vague for the Receiving Party to understand what's truly confidential and what's not, but if ever tested in court, a judge may find that the agreement you drafted and signed is too restrictive and might invalidate it.
Here's an example of a definition of confidential information in the Mutual NDA by European IPR Helpdesk that clearly labels what information would be considered confidential, including works in progress: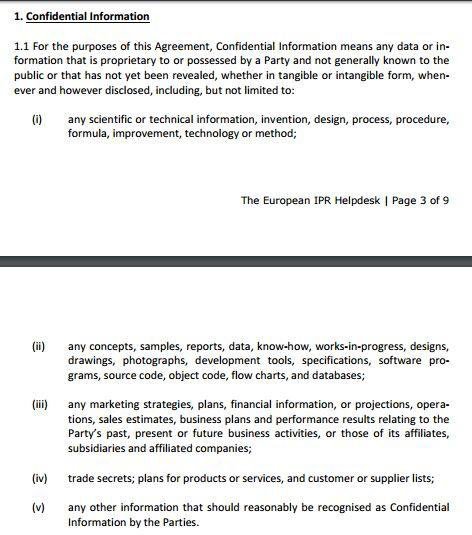 No Grant of Rights
To further protect your works in progress, especially if you have a patent application on the way, you should clearly state that no licenses or other rights, including copyrights and patents, are being granted.
Here's an example of this kind of clause that you can use in your own agreement from AllMerchants:

Here's a second example from FreePatentForms.com:

Return or Destruction of Confidential Information
You should include a clause in your non-disclosure agreement specifying what you want the Receiving Party to do with the confidential information that they have received from you after the completion of your relationship, i.e. when the contract ends.
Common obligations in these type of cases include:
The return of the original and all copies of the information
To destroy the original and/or all copies of the information
To ensure that no other copies are retained in their systems, i.e. the Receiving Party, records and emails and to provide evidence of such
Here's an example of this kind of clause from UpCounsel again:

But beware…
Even though getting a non-disclosure agreement signed is a great first legal step in protecting your confidential information, including any works in progress, it's may not be foolproof.
There's no guarantee that a Receiving Party will not be unethical, be careless or have lax systems in dealing with your information resulting in its exposure or just simply be clueless in not realizing that a certain document contains highly secret data.
Because you don't have total control over what the Receiving Party may or may not do, you should take all steps that you can to minimize the likelihood of things going wrong and to safeguard your information.
Since you're likely to be working with several different parties over the course of your business lifetime with whom you have to share your confidential information with, it makes sense to establish good intellectual property practices amongst your staff and partners.
Here are some suggestions:
Label all confidential information appropriately.

All confidential information should be clearly labeled as "Confidential," "Trade Secret" etc.

Not only does this alert a Receiving Party to what kind of information the'll be receiving, but it also teaches your own staff members about how the information needs to be handled carefully.

Document everything.

As much as possible document all information that is shared with other parties outside of your business including suppliers, investors, partners and lending institutions.

Memos, emails, project information, design information should all be documented if shared. If anything is handed physically over, request a confirmation of receipt signature or stamp for your records.

On top of this, make a record of the parties that the Receiving Party is intending to share the confidential information with. In this way, you know who has access to your protected information.

Give prior warning before transmitting confidential information to the Receiving Party over a communication network that might not be 100% secure.

Confidential documents are always better passed directly to the recipient in person.

However, this may not be practical in reality.

If you're going to be emailing documents containing confidential information, you should ensure that it's being emailed to the correct person and not to a general email address that can be accessed by multiple people.

If you're sending the information over by facsimile, then ring up the person whom it is intended for in advance and ask them to wait by the fax machine.

If you're posting the information over, make sure that you stamp the outside of the envelope as confidential and advice the Receiving Party in advance to expect your confidential information in the mail.

Deposit your confidential information with a neutral third party.

Although it's not very well-known, there are businesses that provide data and intellectual property management services.

These companies can protect data, technology-based assets and intellectual property through data management, storage, document imaging and shredding services as well as provide other solutions like cloud software escrow services that allow you to restrict access to valuable information.

For example, you could provide evidence of the status of your intellectual property just before you provide access to the Receiving Party by getting your documentation dated and time-stamped by this neutral third party before handing it over to the Receiving Party.

You could also go through the same process right after your contract with the Receiving Party finishes.

In this way, you have a neutral third party who has evidence of what confidential information was shared and returned. In any dispute, the neutral third party would be a valuable witness.

Apply for proper intellectual property protection.

You can apply for formal intellectual property protection such as patents, designs and copyrights in addition to the non-disclosure agreement that you've signed. Without formal protection, you have to prove that the idea is actually yours.

For example, although your work may have automatic copyright protection, you can deter infringement (particularly from those who don't understand copyrights) by registering your copyright formally to make it clear that your work is protected.

For example, you can register your work officially in the US through the United States Copyright Office through their online copyright registration service.

In the UK, you can formally register your copyright online with The UK Copyright Service. Costs are reasonable and to give you an idea, the cost for a 5 year online registration in the UK is £39.50.

Patents can be registered in the US through the United States Patent and Trademark Office or in the UK, through the Intellectual Property Office.

On top of these formal online registration processes, you should also keep a register of supporting evidence of the evolution of your ideas.

Drafts, designs, rough sketches all help to provide evidence of creation and ownership.
All these steps will help you to not only provide better protection for your confidential information but also discourage the Receiving Party from infringing your confidentiality.
Credits: Icon progress by Gregor Črešnar from the Noun Project.